Madison County Justice Court
Madison County Justice Court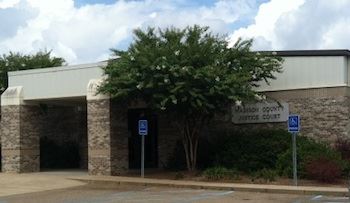 As an original part of the Choctaw Nation, the area which is now Madison County was claimed by Georgia until 1804, when it was then ceded to the Mississippi Territory. The Choctaw Chief, Pushmataha, relinquished claim to the area to Andrew Jackson and Thomas Hinds, granting 1,000,000 acres to the United States, although Madison County was not formally established until 1828. Madison County was named for James Madison, the fourth president of the United States, and the county is bound by the Pearl River and the Big Black River.
In 1840, Madison County assumed its present form; the Big Black River landing town of Beattie's Bluff was the first county seat of Madison County, followed by Madisonville in 1928. At that time, the county boasted a race track, two banks, a wagon factory and a couple of hotels. After the Civil War, the railroad continued to attract growth to the area, and by 1897, the Madison Land Company was encouraging northerners to "Go South and grow up with the country." Prime land was being offered by the Madison Land Company for as little as $3.00 per acre, with the Land Company boasting that Mississippi had the lowest debt ratio in the U.S. and that those living in the state were at least one-third healthier than the rest of the nation. Whether those figures were exactly true, people did move into the area.
The current county seat of Madison County is Canton. The industries which Madison county began with—cattle, forestry, soybeans and cotton—are still going strong, although commercial interests and manufacturing have also experienced the rapid growth seen across the nation. Two of the reasons for the population boom in Madison County is the Jackson Metro area and the Ross Barnett Reservoir. The Reservoir features 105 miles of shoreline with a 3.5-mile man-made dam and spillway on the south. The western shore is bounded by the historic Natchez Trace Parkway. Each year more than two million people visit the Ross Barnett Reservoir to engage in a variety of outdoor recreation such as boating, water-skiing, hiking, camping and fishing.
One of Madison County's "claims to fame" is the fact that John Grisham's best seller, A Time to Kill, was filmed in Madison County and Canton, in particular. Notable people from Madison County include Tate Ellington, actor, Stephen Gostkowski, professional football player for the New England Patriots, Parys Haralson, professional football player for the New Orleans Saints, Chris Spencer, professional football player for the Tennessee Titans, Micah Pellerin, professional football player for the Tennessee Titans, and John Henry Rogers, U.S. Congressman from Arkansas, and a federal judge.
Madison County Justice Court
The Madison County Justice Court processes civil actions which do not exceed $3,500, as well as misdemeanor criminal charges. The Madison County Justice Court also handles preliminary hearings for felony offenses. The Madison County Justice Court is located at 2961 South Liberty Street, Canton, MS. Justice Court Judges include: Judge Marsha Weems Stacey, District One, Judge Martina Griffin, District Two, Judge Lloyd Spivey, III, District Three, and Judge Bruce McKinley, District Four. The Justice Court has jurisdiction over all traffic citations issued in Madison County, whether by the Mississippi Highway Patrol, the Madison County Sheriff's Department, the Pearl River Authority, The Public Service Commission and the Madison County Constables. Wildlife Citations and Affidavits within the county of Madison are adjudicated in the Madison County Justice Court. Madison County Justice Court cases are assigned to judges and constables via computer rotation.
Felonies, Misdemeanors and Civil Cases
The distinction between civil and criminal cases is important. A civil case is a contested matter between two or more persons or entities, while a criminal case is between the State of Mississippi and a person accused of committing a felony or misdemeanor offense. A felony offense is a more serious offense, and while it is often a violent crime, in some cases a felony offense is not a violent crime. While most other states classify felony offenses as a Class A, B, C, etc., Mississippi does not. Felony offenses are such crimes as capital murder, murder, attempted murder, manslaughter, rape, arson, drug crimes, embezzlement, grand larceny, and, in some cases, repeat misdemeanors can be classified as a felony.
Some examples of this are a third offense for shoplifting and a third offense for driving under the influence. In the state of Mississippi, a felony charge can only be returned by a Grand Jury—a group of citizens, summoned to the Courthouse to inquire into a specific crime. The Grand Jury does not determine innocence or guilt, rather determines whether there is probable cause to charge a person for a criminal felony offense.
A misdemeanor offense in the state of Mississippi—and in all other states—is much less serious than a felony offense, and may include such things as first or second DUI, simple assault, perjury, trespass, possession of small amounts of drugs like marijuana, trespassing, resisting arrest, stalking, harassment, criminal mischief, theft of property under $500, hazing, shoplifting, disorderly conduct or forgery. Generally speaking, misdemeanor charges are reserved for crimes in which no one was injured. If a person is seriously injured, no matter the criminal offense, it is likely you will face felony charges. Another element of a misdemeanor offense is the monetary value associated with the offense, particularly theft.
Petit larceny is a misdemeanor which is reserved for theft or shoplifting items valued at less than $500, however if that amount goes over the amount of $500, felony charges could be filed. The value of some items—particularly if the item is not new—can make the decision to charge a felony or misdemeanor more difficult. The penalties for a misdemeanor offense is less than a year in city or county jail and a fine of $1000 or less. If you have been charged with a misdemeanor or felony criminal offense in the state of Mississippi, it is imperative that you speak to a knowledgeable Mississippi criminal defense attorney as quickly as possible.
Contact Our Madison County Criminal Defense Lawyers
If you or someone you love has been arrested and charged with a crime in Madison County or anywhere in the State of Mississippi, the best thing you can do is to contact an experienced Madison County criminal defense attorney who will protect your rights throughout the criminal process.
At Coxwell & Associates, PLLC, our attorneys believe that everyone is innocent until proven guilty. That's why we work tirelessly to defend our Madison County clients. Contact Coxwell & Associates today at (601) 265-7766.
HELPING MISSISSIPPIANS FOR OVER 40 YEARS
Free Consultations

Family Oriented Law Firm

Over 70 Years of Combined Experience

Dedicated to Clients