Malpractice Cases in Jackson, MS
There are four elements that must be satisfied to have a successful malpractice claim: duty, breach, causation, and damages. Duty means that a professional owes a client (or patient) the duty to act reasonably and responsibility under the circumstances. The duty requires the professional to act within the "standard of care" for that profession. Breach means that the professional failed their duty and fell below the standard of care. Causation means that the professional's breach of their duty contributed to the client's injuries. Finally, damages represent the fact that the client sustained harm because of the professional's mistake.
Malpractice suits can come in a variety of forms. Most of us think of just medical malpractice, but you can also have a professional malpractice or legal malpractice claim. Below, you will find a list of the major forms of malpractice as well as examples of each type.
Types of Malpractice Cases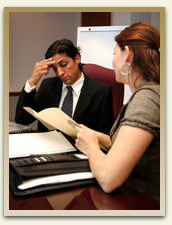 Medical Malpractice is defined as the poor performance of a medical professional that results in injury or death. This type of malpractice does not have to be intentional and can come about as the result of careless actions on the part of the medical professional. Examples of medical malpractice include (but are not limited to): Injuries to the mother or baby during the birthing process, failure to diagnose a serious condition such as cancer or heart attack, and medical mistakes such as ordering or administering the wrong medication.
In addition to physicians, you can also have a medical malpractice claim against optometrists, dentists, psychologists, nurses, nursing home staff, pharmacy technician and any other medical professional.
Professional Malpractice is the result of the poor conduct on the part of a professional that falls below the standard of care for that profession and causes some sort of damage to the client. Usually, a professional malpractice claim is brought against attorneys, financial advisors, accountants, and other white-collar professionals.
Examples of professional malpractice can include such actions as: insider trading, unauthorized transactions by someone with power of attorney, billing fraud, gross negligence, misrepresentation of facts, or any other error or negligence by the professional.
Legal Malpractice is a specific form of professional malpractice that usually results when an attorney fails to adequately represent their client in court. A legal malpractice claim can also occur where the attorney missed an important deadline or failed to file necessary paperwork. A client can also have a claim for a legal malpractice suit where the attorney failed fully examine important evidence or facts of the case.
Below are some of the areas in which we can assist you:
If you or someone you love has been the victim of any form of malpractice in Jackson, Mississippi, contact the malpractice lawyers of Coxwell & Associates today. Our attorneys have over 32 years of experience helping Mississippians solve their legal problems.
$144 Million Death and punitive damages

$120 Million Injuries from dangerous drugs

$20.4 Million Fraud settlement that went to Mississippians

$2.3 Million Brain injury settlement

$2.1 Million Civil rights death

$1.6 Million Fraud settlement for Mississippians
Contact Us today
To Schedule A Consultation
"You were made to do what you do. Know that You make a difference in lives for the better."

- Will A.

"We are so appreciative for everything you've done for us. We don't know how we would've gotten through this without your help and generosity!"

- N.B.

"My family and I will always be indebted to you and your staff."

- B.W.