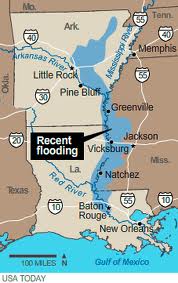 As thousands of residents in both Mississippi and Louisiana brace for a disaster which rivals the historic 1927 Flood, let's hope that their insurance companies don't inflict a second disaster by denying their insurance claims.
If you are involved in a flood, your insurance policy should advise you on the steps to take to make a claim. This Government website has a step by step procedure to follow.
If you have a flood at your business premises or commercial premises it can have a devastating affect – both structurally and financially. In these circumstances it is important to make sure you get the right compensation from your insurance company. In this short article we will look at the best way to achieve this – and hopefully keep your business afloat long after the flood has subsided.
When flood hits your business and you have to make a flood damage claim there are a number of factors that will determine how much compensation you think you might receive. There is the obvious damage to your premises and the damage that is caused after the flood, there is the loss of profit that your business will undoubtedly suffer and finally there is the trauma that is caused to both you and your staff. However if the figure you receive falls below your expectations it can often spell the end for a lot of businesses. The best way to avoid this is to employ a loss assessor.
Your insurance company will have already appointed a loss adjuster to make sure they have to pay out as little as possible with regards to your flood insurance claim. The loss adjuster works for the insurance company and although they have to give fair recommendations they are not accountable to you. If you and your business appoint a loss assessor you will be sure of getting a fair outcome from your flood damage claim. The loss assessor is employed by you, works for you and has your interests in mind at all times. A loss assessor will bring all the expertise and knowledge that you would have been lacking if you tried to process the claim yourself.
By employing a loss assessor to sift through all the minor details you can be sure that your insurance company will not sell you short on your compensation. The loss assessor will fill in all the necessary paperwork pertaining to your flood damage claim making sure nothing is missed out – and in doing so is securing a better financial future for your business. You are essentially making sure that the argument over what is due to your company is played out fairly and that you receive adequate compensation in the event of a flood.
The loss assessor will utilise their many years of experience to ensure that the insurance company has to pay out fairly in relation to your loss of profit so that you can keep trading well into the future. It goes without saying if you have to make a flood insurance claim there are going to be many things that you are going to have to deal with other than just the claim.
After the flood has subsided it is important that your business will be able to operate successfully into the future and by employing a loss assessor you will make this possible.
Chuck Mullins has been helping Mississippi citizens weather the storm for over 16 years. Find out more about Chuck at the Coxwell & Associates website.
Disclaimer: This blog is intended as general information purposes only, and is not a substitute for legal advice. Anyone with a legal problem should consult a lawyer immediately.