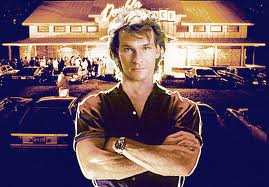 Pac Man Jones is in trouble again. The Cincinnati Bengals cornerback was arrested today for punching a female bar patron in the face. Here's the video from ESPN. First Pac Man claimed that the lady threw a beer bottle at him. However, the video does not support that version of events. Perhaps she poured beer on him but clearly there was nothing thrown at him. In my opinion Jones clearly overreacted in striking the lady. Short of a woman using deadly force against a man I cannot fathom hitting a woman like this.
This is not Pac Man's first scrape with the law. He was makin' it rain in a Vegas strip club which lead to a gun fight. Pac Man was sued by the victims of the shoot out and a jury ordered him to pay $11.7 million in damages. One of the victims was paralyzed from the waist down. Pac Man also plead guilty to misdemeanors related to the shooting but received probation. Pac Man was suspended by the NFL and was out of a job. He ended up getting a second shot with the Cowboys and then with the Bengals. He had kept his nose clean for a while but I guess a Bengal can't change it's stripes.
Bars and nightclubs can be very dangerous places. My Dad warned me about them for years, referring to them as "beer joints". He often told me that anyone could come up to you in a crowd and stick a knife in you or you could be at the wrong place at the wrong time. Well, I didn't always listen to my Dad but I can tell you that he was dead on accurate about "beer joints".
I have represented many Mississippians who were involved in fights or altercations at clubs in both civil and criminal court. I am currently representing three (3) individuals who were all harmed at a night club in Hattiesburg, Mississippi on separate occasions. In those cases, we have alleged that the club was a haven for criminal activity and the owner failed to take steps to beef up security. We go to trial on one of these cases in September 2013. These cases are typically called "premises liability" cases. Anytime you at at a club you are considered a "business invitee". The "beer joint" owes you a duty to protect you from harm it is aware of or harm that it should be aware of. If a club breaches that duty it could be liable for any harm suffered by you while you are on the premises.
The other side of the coin are criminal acts which occur in beer joints. A lot of folks go to clubs to have fun but some idiots are just "too stupid to have a good time." This will lead to bar fights and serious charges.
In a lot of clubs, the owners will hire off duty police officers for security. That's good. However, should you become "imbibed" and get into an argument with these guys you could be charged with "disobeying a police officer", "assaulting a police officer", or "resisting arrest". The reason is that in Mississippi, police officers are deemed to be on duty 24/7 even when they are working off duty jobs. Should you be out at a beer joint which has an off duty cop working security, you should be mindful of that. We have represented many folks on these charges and they have been very difficult cases to defend.
The best advice I have to offer to you are the words of Jake Mullins (my Dad): "Boy, if you're in bed at 10 p.m. and the cops come looking for you I can tell them you're with me and you didn't do anything. If you're not home and they come looking for you, I can't help you a bit. Stay out of those beer joints."
I'm Chuck Mullins and if you fail to heed my Dad's warnings about "beer joints" you need to keep my name handy. Learn more about our firm on our website.
Disclaimer: This blog is intended as general information purposes only, and is not a substitute for legal advice. Anyone with a legal problem should consult a lawyer immediately.