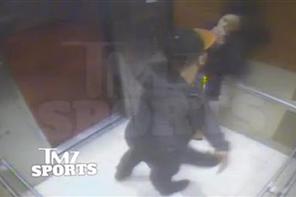 As a huge NFL fan, specifically of the Cleveland Browns, it gave me complete and unbridled satisfaction when Ray Rice was cut from the Baltimore Ravens. However, the reason for his abrupt dismissal from the team was a despicable act which we as a society cannot tolerate.
Everyone is probably familiar with the facts of this case. On February 15, 2014, the day after Valentine's Day mind you, Ray Rice and his then fiancé Janay Palmer were both arrested and charged with domestic assault. Video surveillance captured Ray dragging his unconscious fiancé out of the elevator. Police reports reflect that Ray had knocked Janay out cold. Ray filed assault charges against Janay as well. This is a pretty common tactic in cases like this.
On March 27th, the case was presented to a grand jury which indicted Ray for aggravated assault. This is a felony which carries up to 5 years in prison. The assault charges against Janay were dropped. On the next day, Ray and Janay were married. The two were originally scheduled to wed in the summer but why wait? In Mississippi a spouse cannot testify against another spouse. That's called the spousal privilege. However, this privilege does not apply in domestic violence cases. New Jersey has a similar privilege which does not apply in domestic cases. So either Ray and Janay just couldn't wait to get married OR they were getting married in order to make it more difficult for a jury to convict Ray.
Well, Ray was offered a plea deal for probation which he rejected. He then applied for and was received in a pretrial diversion program. If he completes the six month program the charge would be erased from his record.
Ray and Janay met with executives from both the NFL and the Ravens. No one knows what was discussed but we presume they were asked what happened inside the elevator. After the meetings, Ray was suspended for two games. Case closed. Or was it?
On September 8, 2014 TMZ released a video from inside the elevator. TMZ obtained the video from the casino. Both the NFL and Ravens quickly explained that neither had seen the video. Later that same day the Ravens cut Ray and the NFL suspended him indefinitely.
Several questions remain. A law enforcement official revealed that a copy of the elevator video had been sent to the NFL, contradicting the NFL's position. But did we need the video? Everyone saw the original video with Ray dragging an unconscious Janay out. How did she get that way? Ray admitted to hitting her. Did we need to see it to believe it?
Domestic violence in any shape, form, or fashion is wrong. Whether it's the man or woman (and yes there are cases where women assault men). Mississippi's domestic laws are strict. If you are arrested for domestic violence, you must stay in jail for 24 hours and see a judge before you can bond out of jail. A first offense conviction can land you in jail for 12 months plus you are forbidden from possessing a gun under federal law. For subsequent offenses, the jail time increases. If the assault causes serious bodily injury you could be facing 20 years in jail.
We have strong laws in Mississippi but why do we still see such tragic domestic violence cases? I think we see from Ray Rice's case that a domestic violence victim can be the problem. In this case the victim, Janay, stood behind Ray despite being knocked out. We have witnessed other cases where victims with a history of being abused consistently stand up for their abusers. This makes the prosecutor's case very difficult to prove if you have a victim refusing to cooperate.
I suppose the best thing would be to have better support systems in place for domestic violence victims. When a person is subjected to domestic violence, they need to get counseled. Why do they stay with their abusers? Some of the most notable answers are fear, low self esteem, and money. Clearly there are some cases where the victim and abuser can patch things up. But more often than not we see a tragic end.
Coxwell & Associates has been helping Mississippian's for over 30 years. Chuck Mullins has been practicing for 20 years. To learn more about Chuck, go the the firm's website.
Disclaimer: This blog is intended as general information purposes only, and is not a substitute for legal advice. Anyone with a legal problem should consult a lawyer immediately.