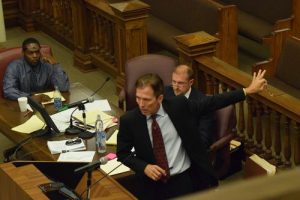 If you're recovering from serious injuries, dealing with insurance adjusters and navigating complicated legal proceedings are probably at the bottom of your to-do list. Should you have grounds for a claim, though, failing to take action right away could prevent you from obtaining fair compensation. The attorneys at Coxwell & Associates, PLLC work out of Jackson, Mississippi. We travel and represent people throughout the entire State of Mississippi on car crashes, other personal injuries, and criminal defense.
Below are just a few signs that you might have a strong personal injury claim:
1. You Played No Role in Causing the Accident
If someone else was solely responsible for the accident in which you were hurt, you may be entitled to compensation for 100 percent of the damages. If, on the other hand, you played a minor role, your potential payout would probably be reduced based on your percentage of fault, but it may still be worth bringing the claim. Because Mississippi has a pure comparative fault rule, you can seek damages even if you were more than 50 percent liable for the accident. But again, your financial recovery will be reduced by your own percentage of fault.
2. Your Injuries Are Keeping You from Working
If you sustained only minor bumps and bruises that didn't require medical attention, you may not have incurred significant damages. If the injuries were so severe that they kept you out of work, on the other hand, it's reasonable to assume the case is worth pursuing. In the state of Mississippi, accident victims may seek compensation for their medical bills and lost wages, both of which can add up fast. Should they suffer permanent disabilities and have reduced earning capacity, they may also pursue funds for loss of future earnings and benefits.
3. You Recorded the Scene of the Accident
In many scenarios, the scene of the accident contains critical evidence that won't be available indefinitely. If you slipped and fell on someone else's property, for example, it's wise to photograph the hazard that caused the incident before the owner has time to fix it. Likewise, photographs of the wreckage left in the wake of a car crash may reveal what happened in the seconds leading up to the collision. Fortunately, even if you were unable to collect this evidence, a skilled attorney may be able to obtain other evidence to strengthen your case such as surveillance footage.
4. You Haven't Made Any Critical Mistakes That Could Jeopardize Your Case
Unfortunately, there are a number of ways to threaten even the strongest claims inadvertently. As long as you haven't made any of these mistakes, though, there's a good chance you haven't hurt your case yet:
Posting about the accident, your injuries, your social life, or recent expenditures online;
Postponing medical care;
Ignoring your doctor's orders; and
Giving the claims adjuster a recorded statement.
Call (601) 265-7766 to Speak with a Personal Injury Attorney in Jackson
If you think you might have grounds for a personal injury claim, contact Coxwell & Associates. We can conduct a thorough investigation into your case, interview eyewitnesses, handle all correspondence with the opposing party, and make sure your claim accounts for all the damages you may be owed. We have worked for over 40 years helping people who are injured in car crashes and other types of injury cases obtain fair compensation. Call (601) 265-7766 or fill out our Contact Form to schedule a free consultation with a personal injury lawyer in Jackson.