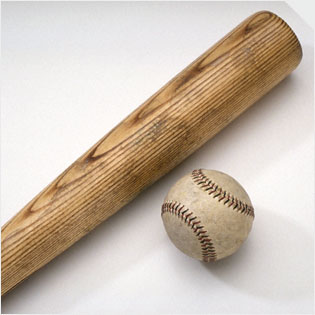 As a baseball coach for my son's U8 Coach Pitch team, today's article in the Clarion Ledger concerning a lawsuit against the Louisville Slugger bat company caught my attention. Brandon Patch was pitching for his Helena, Montana American Legion baseball team in 2003. He was struck in the head by a ball and died. He was only 18 years old. The Clarion Ledger article lacked facts so I found the original newspaper article which provided much more detail.
Brandon's family filed suit against Hillerich & Bradsby, the makers of the Louisville Slugger line of bats. A jury ruled against Hillerich & Bradsby and ordered them to pay damages in the amount of $850,000 for Brandon's death. The jury found that the company was responsible for not placing a warning label on the bat. The company appealed the decision but yesterday an appeals court upheld the judgment.
My son and his friends are at the age where a coach pitches the ball to them. The league is aptly named "Coach Pitch". It should be renamed "Coach Pitch, Then Duck"! I cannot tell you the number of times that these 7 year old kids have crushed a baseball that has come within inches of a coach's head. The baseball bats these kids are using are nothing short of rocket launchers. The barrels of the bats are as big as high school or college bats but they make them shorter and lighter for the kids. As a result,the Dads need to be light on their feet.
The technology got so advanced that colleges and other youth baseball governing bodies were forced to pass new legislation to limit the materials in the bats, Bats now have a BPF, bat performance factor, which establishes a method of measuring how a ball jumps off of a bat compared to how a ball rebounds off of a wall at a controlled speed. BPF is simply the increase in the liveliness of a ball hitting a bat compared to throwing a ball against a solid wall (i.e., 20% faster rebound = a BPF of 1.20).
When Brandon Patch's family received a verdict in 2003, the family knew it would not bring their son back or ever "compensate" them for their loss. "We never expected it," Brandon's mom said. "We just hoped we could get the truth out for more people to see." Mrs. Patch said she hopes the decision will make more people aware of the dangers associated with aluminum bats and that more youth leagues will switch to using wooden bats."We just want to save someone else's life," Patch said.
I would like to think that Brandon's death was not in vain and, as his Mom said, someone else's life will be saved because of their lawsuit. I for one thank them.
Chuck Mullins practices law and coaches youth sports in his spare time. Learn more about him at his website.
Disclaimer: This blog is intended as general information purposes only, and is not a substitute for legal advice. Anyone with a legal problem should consult a lawyer immediately.