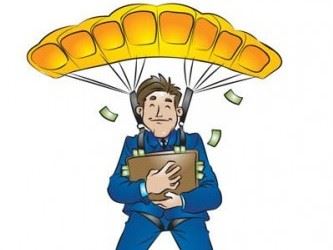 A parachute is defined as "a device for slowing the descent of a person or object through the air that consists of a fabric canopy beneath which the person or object is suspended." If you add the word "golden" in front of "parachute" the definition changes to "a generous severance agreement for a corporate executive in the event of a sudden dismissal (as because of a merger)." A recent GMI Ratings Report listed 21 recent golden parachutes for various CEO's. I found the payments ludicrous in light of the economic crunch this country is currently experiencing.
Here is a list with the years the person acted as CEO:
General Electric John F. Welch Jr. 1981-2001 $417,361,902
Exxon Mobil Corp. Lee R. Raymond 1993-2005 $320,599,861
UnitedHealth Group William D. McGuire 1991-2006 $285,996,009
AT&T Edward E. Whitacre Jr. 1990-2007 $230,048,463
Home Depot Inc. Robert L. Nardelli 2000-2007 $223,290,123
North Fork Bank John A. Kanas 1977-2006 $214,300,000
Merck & Co., Inc./Schering-Plough Fred Hassan 2003-2009 $189,352,324
IBM Louis V. Gerstner Jr. 1993-2002 $189,005,929
Pfizer Inc. Hank A. McKinnell Jr. 2001-2006 $188,329,553
CVS Caremark Corp. Thomas M. Ryan 1998-2011 $185,415,435
Gillette Co. James M. Kilts 2001-2005 $164,532,192
Target Corp. Robert J. Ulrich 1994-2008 $164,162,612
Merrill Lynch & Co. E. Stanley O'Neal 2002-2007 $161,500,000
U.S. Bancorp Jerry A. Grundhofer 2001-2006 $159,064,090
Omnicare, Inc. Joel F. Gemunder 2001-2010 $146,001,476
Wachovia/South Trust Wallace D. Malone Jr. 1981-2004 $125,292,818
United Technologies Corp. George A. L. David 1994-2008 $122,631,309
eBay Inc. Margaret C. Whitman 1998-2008 $120,427,360
WellPoint Health Leonard Schaeffer 1992-2004 $119,041,000
XTO Energy Inc. Bob R. Simpson 1986-2008 $103,485,972
Viacom Thomas E. Freston 2006 $100,839,772
Can you imagine working at a job for a few years and then leaving with a severance package in excess of $100 million!? Sign me up! Unfortunately for those of us who have never received a golden parachute, the meddling SEC has issued new regulations which require corporations to actually disclose "golden parachutes" to its stockholders and allow stockholders to vote them down. Man, I guess I'll go back to scratching off lottery tickets.
Disclaimer: This blog is intended as general information purposes only, and is not a substitute for legal advice. Anyone with a legal problem should consult a lawyer immediately.