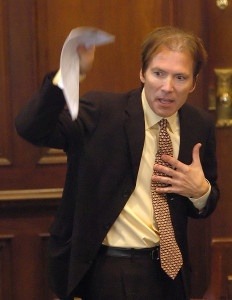 The attorneys at Coxwell & Associates concentrate their practice in several areas. They represent people who are seriously injured by another's wrongful conduct, including auto-truck accidents, dangerous products and drugs, injuries due to drunk drivers, and other types of injuries. The firm also concentrates on criminal defense in all state and federal courts.
The serious injury attorneys at Coxwell & Associates have offices in Jackson and Gulfport, MS. For the past several weeks the firm has been monitoring a Transvaginal Mesh Case that has been tried in Atlantic City, N.J. This case was styled Linda Gross V. Johnson & Johnson. Mrs. Gross had implanted into her body the Ethicon Gynecare Prolift System. She had already undergone 18 corrective surgeries. The harms and losses she had experienced were: inability to work, unable to have sexual relations with her husband, a level of pain that was so severe that she continuously used a pain pump. An excellent overview of the trial can be viewed at the Mesh Medical Device News Desk.
The jury returned a verdict this morning for Mrs. Gross in the amount of $3.35 million dollars for her harms and losses. Mrs. Gross' case was a bellwether trial, meaning it was chosen as one of a number of cases to try so both the plaintiff lawyers and defense lawyers could gauge what a jury may do in other similar cases. This is a significant victory for the injured person. This case was hotly contested and fought hard by all the attorneys. Each side had expert witnesses supporting their view of the case. A verdict for Mrs. Gross is a positive step for all women who have been injured by these various products.
The attorneys at Coxwell & Associates are currently representing about 70 women who have had Transvaginal Mesh Implants by the various companies. The firm has approximately a half dozen clients who have been chosen as bellwether cases similar to Mrs. Linda Gross. The attorneys will continue reviewing cases and helping women who have been injured by the Transvaginal Mesh Implants up until the Statute of Limitations. If you do not know what the Statute of Limitations means, it is a cut-off date for filing your lawsuit. The Legislature has passed a law saying that you have three (3) years after your injury to file your lawsuit, or you lose your rights forever.
If you have been injured by a Transvaginal Mesh Implant, or have a loved one or friend injured, we suggest that you seek immediate advice or that you suggest your friend seek advice from attorneys who are knowledgeable in mass torts. Once the Statute of Limitations passes, there will never be another opportunity to recover for any harms and losses you may have received.
Merrida Coxwell is the managing partner of Coxwell & Associates, PLLC, a law firm that concentrates on serious injury cases and criminal defense in all state and federal courts. Merrida has over 32 years' experience helping people. He practices all over the state of Mississippi and he is also licensed in Arkansas, West Virginia, and the District of Columbia.
Disclaimer: This blog is intended as general information purposes only, and is not a substitute for legal advice. Anyone with a legal problem should consult a lawyer immediately.