If you are like most adults, you have probably been involved in an automobile accident at one time or another. Perhaps it was a minor fender-bender in a parking lot or a major collision that left you with serious injuries. According to one study, most adults will be involved in one auto accident at least every 17.9 years. If you happen to be one of the unlucky drivers whose accident is serious, you will go through an experience which can be difficult, painful, and expensive.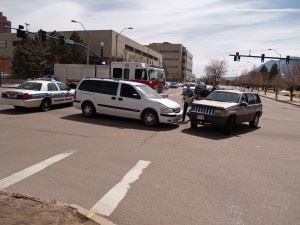 Serious car accidents can be reduced by following safe driving practices and driving defensively, however you might be surprised at some of the more shocking car accident statistics, including the following:
1. At least 90 people will die in a car collision every single day—a full six percent of all car accidents will result in a fatality. Those who drive a car that has the highest safety ratings, consistently wear their safety belts, always drive the speed limit, obey traffic rules, and avoid driving distractions or driving while fatigued, can vastly increase their chances of not being one of those car collision fatalities.
2. As many as a full third of all auto collisions which result in one or more fatalities are caused by excessive speed. While impaired driving does cause close to 40 percent of all fatal auto accidents, speeding comes in as the second leading cause of auto accident fatalities. Driving as little as five miles over the posted speed limit can significantly increase your risk of a serious auto accident.
3. Despite the fact that wearing seatbelts vastly increases the chances of living through an auto accident, one in seven people do not wear their seatbelts. You are thirty times more likely to be ejected from your car during an auto collision if you are not wearing a safety belt. Overall, seatbelts reduce the risk of serious injury by 50 percent and reduce the risk of death in an auto accident by 45 percent. There is simply no good reason not to wear your safety belt any time your car is moving.
4. Texting and driving kills—you are 23 times more likely to have an auto collision if you are texting and driving. On average, a person who is texting will have his or her eyes off the road for between 4 and 5 seconds. At 55 mph, a vehicle can travel the length of a football field in five seconds. About one in five auto accidents are the result of distracted driving, and the main form of distracted driving is texting and talking on the phone.
5. Yes, your teenage driver is an accident waiting to happen. Teens are a whopping ten times more likely to be involved in an auto accident during their very first year of driving than other drivers, and, overall, account for a full one-fifth of all auto accidents.
6. Florida is a very dangerous state to drive in. While Florida ranks third for the number of fatal auto accidents annually, coming in behind only Texas and California, this is a particularly concerning statistic since Florida has only about half the population of California.
7. Your odds of being involved in a deadly traffic accident are hugely higher than dying from another cause. Overall, your odds of dying in a car crash at some point during your lifetime are about 1 in 125. Compare that to your chances of dying in a fire (1 in 40,000), or your chances of dying in an airplane accident (1 in 4,600,000).
8. Every single day eleven teens die because they were texting and driving. Even though 94 percent of teens fully understand the consequences of texting and driving, a full 35 percent of them admit to doing it anyway. This is the number of teens who admit to texting and driving—the numbers are likely much, much higher. Of all the teens involved in a fatal accident each year, at least 21 percent of them were using a cell phone when the accident occurred. Teen drivers have a staggering 400 percent higher chance of being in a car accident when texting and driving than adults. A study at the University of Utah concluded the reaction time for a teen using a cell phone was about the same as that of a 70-year-old driver who is not using a cell phone.
9. Three quarters of fatal auto accident victims across the globe are male.
10. The average driver will swear 32,025 times while driving during their lifetime.
Hopefully, the above statistics will make you think twice about engaging in risky behavior when you get behind the wheel.
Contact Our Jackson Car Accident Lawyers
If you are involved in a car accident in Jackson, Hattiesburg, Meridian, or anywhere in the State of Mississippi, the best thing you can do is to contact an experienced Mississippi car accident attorney who will protect your rights and assist you in receiving a fair settlement for your injuries.
At Coxwell & Associates, PLLC, our attorneys believe in fighting aggressively for injured Mississippi car accident victims – to ensure that they receive the money they need to fully recover. We can help you obtain the money you need to fully recover. Contact Coxwell & Associates today at (601) 265-7766.

Disclaimer: This blog is intended as general information purposes only, and is not a substitute for legal advice. Anyone with a legal problem should consult a lawyer immediately.