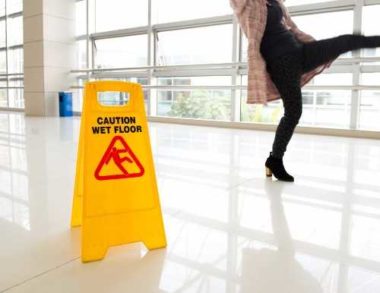 Millions of people in the United States have learned the hard way just how devastating a slip and fall can be. In fact, falls are the leading cause of emergency department visits in this country, and slip and falls result in more than 1 million trips to the hospital annually. Fortunately, victims are often entitled to compensation for their medical bills, lost income, and other damages.
If you were hurt in a slip and fall on someone else's property and you need help gathering evidence or navigating the proceedings, turn to Coxwell & Associates. We have won nearly $300 million for clients in cases of varying complexity. Call (601) 265-7766 to schedule a free consultation with a premises liability attorney in Jackson.
Below are a few tips for documenting the scene of a slip and fall:
1. Obtain an Incident Report\
If the property owner is present, ask for an incident report. If he or she is inaccessible but the accident occurred on a commercial property, ask the manager on duty for an official report. This will help your lawyer prove that the incident occurred and tie your injuries to the accident.
2. Ask Eyewitnesses for Their Contact Information
Get the names and contact information of everyone who witnessed the accident. Their testimony may help corroborate your version of events.
3. Photograph the Area
Photograph the scene of the accident from various angles. If you're physically able to walk around, take these pictures before leaving the area. Otherwise, the property owner may have the opportunity to fix the hazard that caused your slip and fall. If you require emergency care, ask the person who you're with to take the photos, or return to the scene later to do so.
4. Look for Surveillance Cameras
If there are any surveillance cameras in the area, their footage could help your lawyer prove negligence and liability. Ask to watch the footage and record it with your cell phone. Request a copy. If the owner refuses to comply, contact an attorney right away. A premises liability lawyer from Coxwell & Associates can apply legal pressure where needed to compile essential evidence.
Discuss Your Case with a Premises Liability Lawyer in Jackson
If you want to file a personal injury claim against a negligent property owner in Mississippi, turn to Coxwell & Associates for strategic legal guidance. Unlike general practice firms, we handle cases in only a few practice areas so we can provide the most comprehensive representation possible.
Your initial consultation is free of charge, and you won't have to pay any legal fees unless we win. Call (601) 265-7766 or fill out our Contact Form to schedule a case assessment with a personal injury attorney in Jackson.
Disclaimer: This blog is intended as general information purposes only, and is not a substitute for legal advice. Anyone with a legal problem should consult a lawyer immediately.