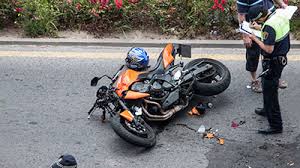 If you were hurt in a motorcycle crash through no fault of your own, you may be entitled to compensation for medical bills, lost wages, and other damages. To win a settlement or verdict, you will need strong evidence to prove liability, causation, and damages. Much of this evidence can be gathered while at the scene of the accident.
If you ride regularly, it is important that you know how to compile evidence after a collision so your subsequent claim has the best possible chance of success. If you've already been injured in an accident, you should contact an attorney right away so the investigation can begin while valuable evidence is still available.
Read on to learn how to properly document the scene of a motorcycle crash:
1. Photograph the Vehicles That Were Involved
Photograph the wreckage before moving any of the vehicles that were involved. Accident reconstruction experts may be brought in to review the photos in order to determine what happened in the seconds leading up to the collision. In addition to taking wide-angle shots of the property damage, you should also capture images of each vehicle individually, as well as any debris on the road.
2. Obtain Each Officer's Name and Badge Number
Once police arrive, make a note of each officer's name and badge number. These details can help your attorney get a copy of the accident report. Also, your lawyer may want to follow up with first-responders for clarification about certain details pertaining to the crash.
3. Get the Other Motorists' Information
Be sure to record the following information from each motorist involved:
Name;
Address;
Phone number;
Auto insurance provider;
Policy number;
Driver's license number; and
License plate number.
4. Look for Eyewitnesses
Get the names and phone numbers of all eyewitnesses. Even if they remain at the scene until the police arrive and provide a statement for the official report, your attorney may want to follow up with them later when building your case. While eyewitness testimony will not serve as irrefutable evidence of fault, it may corroborate your version of what happened.
5. Photograph Your Injuries
Take photos of any visible wounds you sustained including bruises, lacerations, and road rash. Take follow-up pictures over the subsequent days and weeks to show how your injuries are progressing. These images can help your attorney prove causation and the extent of your damages.
Call (601) 265-7766 Today to Discuss Your Case with a Motorcycle Accident Attorney in Jackson
At Coxwell & Associates, we understand how a serious injury or wrongful death in the family can make everything else in life seem insignificant. While we cannot undo what has happened, we may be able to help you obtain the compensation you need to get your life back.
Our attorneys have won nearly $300 million for injured parties and their loved ones in successful settlements and verdicts. Call (601) 265-7766 or use our Online Contact Form to set up a free case evaluation with a motorcycle accident lawyer in Jackson.
Disclaimer: This blog is intended as general information purposes only, and is not a substitute for legal advice. Anyone with a legal problem should consult a lawyer immediately.