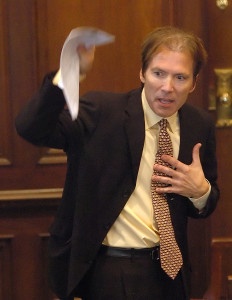 A vehicle accident can happen to anyone at any time. Injuries sustained from car crashes can have long-lasting effects on all areas of your life. From the pain, suffering, and medical bills to absent from work. Injuries can be devastating. If you or somebody you know sustains injuries following an auto accident, the best choice of action is to enlist the services of a car crash lawyer in the Jackson Metro area. Coxwell & Associates are family-oriented, involved in their communities, and life-long Mississippi residents. They live, work and have a deep interest in their community, unlike some national firms that might only be interested in your business.
Coxwell & Associates understands that your best interest is getting the compensation you deserve if you have a legitimate claim. This is where we come in. We understand the results matter. For this reason, we are dedicated to ensuring successful vehicle accident claims on your behalf.
Extensive research and numerous studies show that personal injury plaintiffs that hire a car crash lawyer are more likely to succeed and receive better settlements than those who choose to represent themselves. The benefit of a civil plaintiff attorney that is knowledgeable, skilled, and diligent is indisputable.
Coxwell & Associates will fight your legal battles, handles the paperwork, and ensure that you receive compensation in all areas due. Our main goal is to help you focus on recovering your health and get your life back on track. We understand what auto accident victims go through.
For 40 years, the car crash lawyers at Coxwell & Associates have successfully handled car accident claims on behalf of numerous injured victims. Every one of our car crash attorneys is highly skilled and experienced, guaranteeing that you will receive the best legal representation. By specializing in limited areas of law, we ensure that we have the necessary skillsets to provide results for our clients.
What We Offer
Often, insurance companies aim to pay out as little as possible to accident victims and policyholders. We are in the business of protecting your legal rights. As your advocate, our car crash lawyers at Coxwell & Associates will guide you throughout the legal procedures and get you every dollar that you deserve.
We help auto accident victims file personal injury claims to recover compensation for various aspects, including:
Medical bills
Physical therapy and rehabilitation
Lost wages
Lost earning capacity
Long-term care
Pain and Suffering
Physiological and mental distress
Vehicle Repair
Court costs
Disability
Loss of Consortium
Coxwell & Associates can also help you follow wrongful death claims. Aside from handling regular vehicle accident claims, we also advocate for the victims of motorcycle and bicycle accidents, as well as pedestrians who are struck by vehicles.
Why Hire Us
1. We Have Experience
One of the factors that can facilitate successful claims is the experience of your car crash lawyer. At Coxwell & Associates, we have 40 years of experience and are specialists in personal injury cases.
We have handled many vehicle accidents claims successfully within our years of service and have numerous success stories to show for it. Different legal strategies are needed to handle different types of claims. Our attorneys are familiar with all these strategies and will bring superior insight into your case.
2. We Will Handle the Insurance Companies for You
Insurance adjusters are skilled at negotiating insurance settlements. They will go through all means to minimize their payments. Having our car crash lawyers on your side will have a high impact on your claim.
We will negotiate with insurance handlers, handle all the claim details on your behalf, and help prepare a statement that works for your benefit. Our car crash lawyers have decades of experience dealing with insurance firms and negotiating fair settlements. We know all the tactics and can prevent unfair settlements.
3. We Can Prove Liabilities for Your Injuries
Proving another driver's negligence caused your injuries is among the more complex aspects of personal injury claims. The parties involved always attempts to shift blame. Our accomplished and knowledgeable car crash lawyers can sift through the evidence to ascertain the guilty parties and build a strong case on your behalf.
Having managed numerous complicated cases, Coxwell & Associates attorneys have the resources and expertise necessary to obtain crucial evidence. This includes consulting medical experts, obtaining accident reports, reconstructing accident scenes, and interviewing witnesses.
4. We Will Ascertain the Real Value of Your Injuries
Ensuring that you receive compensation that represents the actual value of your auto accident claim is another complicated aspect. Insurance firms know how to convince you to take lowballed settlement offers.
Our experience in the industry means that we will know the actual value of your auto accident claim. We do not accept settlement offers that do not cover your losses to the full extent.
Other benefits of enlisting Coxwell & Associates services include:
Our practice is primarily devoted to personal injury law & criminal defense
We have a very transparent and fair fee schedule
We are always available round the clock
We are compassionate and understand the needs of all our clients
We take a deep interest in your case-We Understand, Results Matter.
We are honest and transparent concerning the outcome of your cases
Overall, you cannot overstate the importance of legal counsel and representation following a car accident. Coxwell & Associates has the experience, expertise, commitment, and persistence to investigate all circumstances surrounding car accidents. Our team of skilled and professional car crash lawyers will help you ascertain your due compensation based on the unique circumstances of your case. We are among the personal injury advocacies in Mississippi and will prepare your case dutifully to maximize your claims and address your needs. Remember, in Court, you only get one opportunity to do it right! Isn't it best to have a Team on your side who sincerely cares? Merrida (Buddy) Coxwell