You're driving around the mall parking lot, trying to find that coveted space near the front of the store, and suddenly a car backs up into you; your front fender is crushed slightly. No matter your honking the accident still happened! You could see it coming, but couldn't get out of the way. Clearly, the reversing car didn't check the mirrors to see if someone was behind them. If you've been in the unfortunate position to have a minor bump – anywhere – it can be frustrating, and confusing. What do you do next?  Been in a fender bender? Don't know what to do next? Here's a quick checklist of the basics. What to do, who to speak to, what not to say, and more.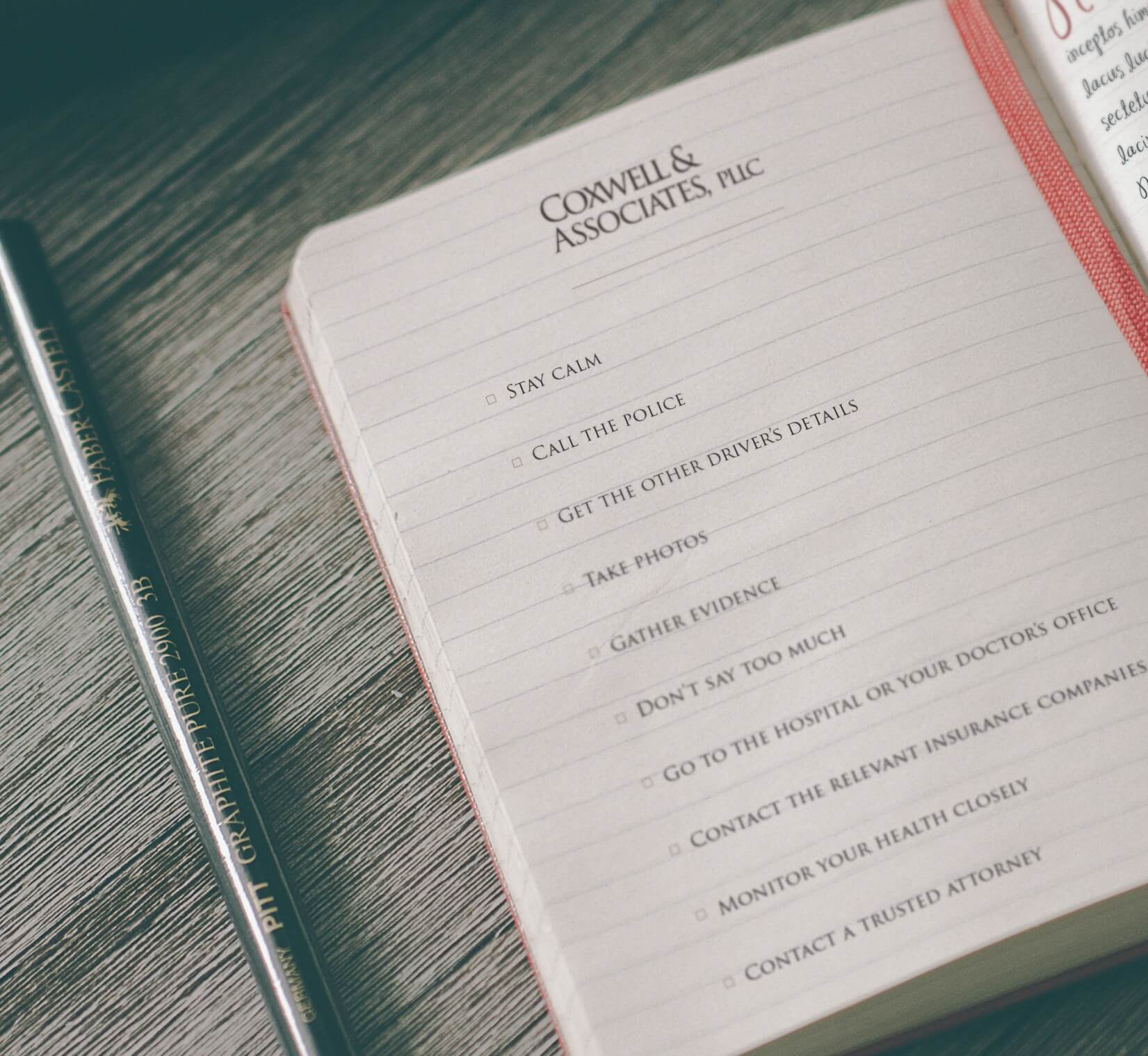 Here's Our Checklist of What to Do After a Fender Bender.
Stay calm
Call the police
Get the other driver's details
Take photos
Gather evidence
Don't say too much
Go to the hospital or your doctor's office
Contact the relevant insurance companies
Monitor your health closely
Contact a trusted attorney
For more details, read further.
1. Stay calm
When an accident happens, it's easy to get overwhelmed and panic, but if you can, try and stay calm and collected. You'll need a clear head to carry out the rest of the steps in the checklist, so take a deep breath and think of what you need to do next.
2. Call the police
Call the police and notify them of the accident; they may call an ambulance to the scene if people are hurt. Make sure you take note of the police officer's names and badge numbers so you can obtain the police report after taking the next steps.
3. Get the other driver's details
In the frenzy of the moment, it may be difficult to think, but get the details of all the other drivers involved as well as witnesses (passengers, bystanders, and so forth). Take down names, addresses, phone numbers, insurance details, and any other pertinent information.
4. Take photos
Take photos and videos of the scene with your smartphone or camera (if you have one on hand). Take photos and/or videos of absolutely everything that may be important later on. Take photos of all of the cars involved, the damage, the license plates, the people involved, your wounds (if any), any injuries and so forth.
In future, it may be a good idea to fit a dash cam to your car; dash cams can be bought cheaply online and can record all incidents as they happen (from a limited viewpoint, of course). Dash cam video can be evidence, and along with the photos and videos you take of the scene, it can be invaluable.
5. Gather evidence
Along with the photo and video evidence, you'll want to note or take photos of the road conditions and the weather at the time. Double check you have all of the above, that you have everyone's details, insurance details, and any other points that could later be needed. It's very difficult to recall details after the fact and memory is fallible and imperfect.
It's an excellent idea when you get home – or if you can do it sooner – to write a personal narrative and account of everything that happened from your perspective by laying down only facts and not speculation – what details do you know for sure? Take notes of everything that occurred in the moments before, during, and after the accident.
Write down any evidence from any loose-lipped fellow drivers. If a driver admits fault or apologizes, or anything of that nature, take note.
6. Don't say too much 
Along those same lines, do not say much more to others involved except to exchange details. You may make nondescript small talk, but do not discuss the accident, do not admit fault, and make sure not to say anything that will point fingers at you.
7. Go to the hospital or your doctor's office 
After the police report is taken down and you leave the scene of the accident, go to the hospital or your doctor's office. Report any injuries you may have, get scans, get a full check over and bloodwork if possible. If you end up being badly injured and you don't have documented evidence of an injury, the opposing party's insurance company legal team could claim you made up injuries after the fact and reduce (or eliminate) your much-deserved compensation. Of course, if you're badly injured on the scene you may be rushed straight to hospital. It's important to keep any documentation associated with your accident because you will need all evidence when speaking with your claims adjuster.
Obviously, if you know beyond any doubt you are not hurt, you don't want to make needless visits to the doctor; however, some injuries may not immediately manifest themselves right after an accident. Often times an accident can result in a small rupture in the nucleus pulposus of the disc and the pain may take some time to cause a person to go to a doctor. Sometimes even a minor fender bender could cause a re-injury of a preexisting problem. 
That is why it is important not to make statements like, "oh, I am not hurt," or "I'm fine," because you really do not know until you have a complete checkup. People often feel pain after a collision, but they don't go to a doctor and they wait until they realize the pain will not subside. Never make flat out statements that you are not hurt, unless you know beyond any doubt that you are not hurt.
Never attempt to resolve any case while you are in pain, and always get a full checkup, including an MRI if you are having lingering pain
8. Contact the relevant insurance companies
Whether you were at fault or not, you'll want to let your insurance company know you have been in a car accident. However, do not say more than facts. Do not answer questions that go into the realm of speculation. Do not admit fault.
If you believe the other party was at fault, contact their insurance company and say you've been involved in a car accident with one of their policy holders. Much like with your own insurance company, report facts. Do not say anything that will put the blame on you or can be spun in a way to put blame on you.
Insurance companies want to pay out as little as possible. They're a business, and in an ideal world for them, policy holders would pay in without making claims. If you've only had their policy for one year, and it seems they may be paying out thousands, they won't see that as a good investment. Their goal is to insure parties long enough for them to pay for their own claims if and when they happen. That being said, insurance companies will do all they can to reduce the payouts they have to make so do not say anything that will hurt your own case and compensation claims.
9. Monitor your health closely
Injuries may not crop up until much later, so be sure to monitor your health closely and go to your doctor if you suspect any changes in your health. Have the doctor document any injuries that have resulted from your car accident.
Since the insurance claims process can take weeks to months, you will most likely have time to present evidence even if injuries do not occur until later.
10. Contact a trusted attorney
Many people do not get involved in many car accidents in their lifetime, so the process can seem scary and overwhelming. A trusted attorney can guide you through the process, especially if you have a personal injury claim and are seeking compensation for emotional and physical damages as well as car repairs, loss of income, childcare costs, and so forth. It's very difficult to make a solid case alone unless you have extensive knowledge of the legal system because insurance companies have legal teams who are experienced at blocking as many claims as possible.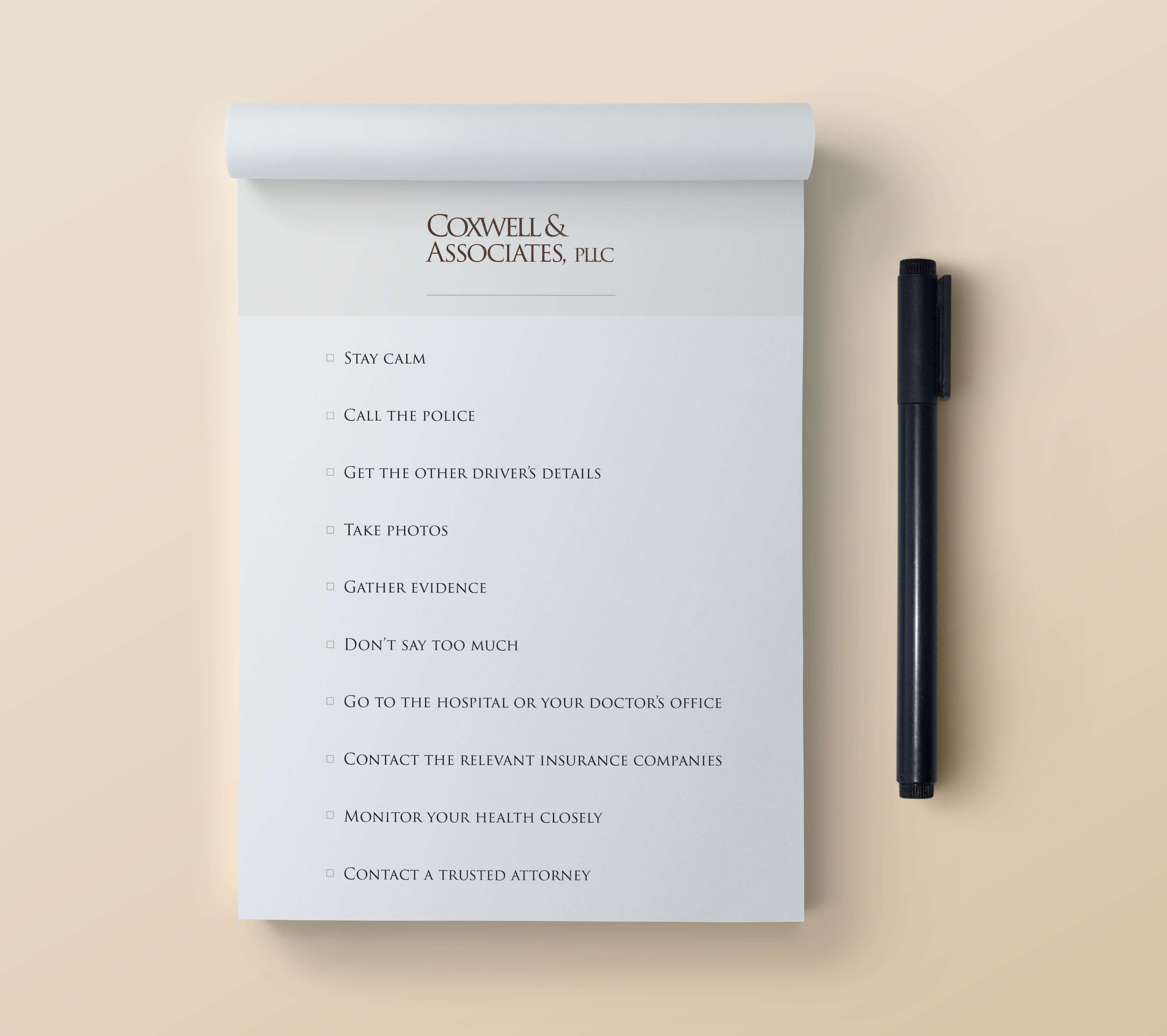 If you decide you need a lawyer, contact an attorney in your area for a consultation to see if you have a strong case going forward.
For More In-Depth Advice on What to Do if You've Been in a Fender Bender, Take a Look at Some of Our Other Blog Posts:
How Serious Injury Attorneys Can Help After A Serious Collision
Negligence and How You Can Prove It
When to Get an Attorney for a Car Accident
Need Trusted Advice About Your Fender Bender? Get in Touch With Coxwell & Associates, PLLC for a Free Case Consultation.
We have over 36 years of experience winning personal injury cases in automobile accidents in the Jackson area. We can advise you on settlements and how to deal with tricky insurance companies and their legal teams. Contact us today. 
Disclaimer: This blog is intended as general information purposes only, and is not a substitute for legal advice. Anyone with a legal problem should consult a lawyer immediately.