The vast majority of car accidents are caused by driver negligence. If you were injured by a drunk, distracted, or reckless motorist, you would most likely file a claim against the at-fault party's insurance company. But what if poor rood conditions were to blame? From whom would you seek compensation for medical bills, property damage, and other losses?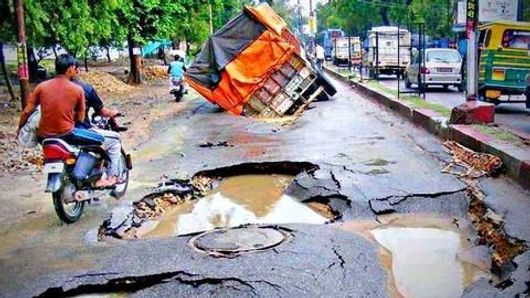 In this blog, we'll discuss the parties who might be liable for such crashes. You may find this information helpful if your accident was caused by a:
Pothole;
Steep shoulder drop-off;
Disorganized work zone;
Lack of adequate signage;
Malfunctioning traffic signal;
Snowy or icy bridge;
Oil slick;
Missing guardrail;
Crumbling concrete; or
Uneven road surface.
Below is a brief overview of the parties who might be liable for crashes caused by poor road conditions:
Government Agencies: City, county, and state agencies are responsible for maintaining the roads. Since different government entities have different responsibilities, the maintenance of a single roadway may be handled by multiple agencies. For example, the city might be responsible for de-icing the streets while the state may perform paving work like filling potholes.
Other Motorists: When road conditions are poor, drivers have an obligation to adjust their speed accordingly. That means under some circumstances, motorists can be held at least partially liable for accidents that involve dangerous road conditions; however, drivers do not necessarily have a duty of care to compensate for malfunctioning traffic signals or potholes. If they have no way of knowing the danger exists, they might not be liable for a crash that results.
How Long Do I Have to File a Lawsuit Against a Government Entity?
In the state of Mississippi, the standard statute of limitations for negligence-based personal injury lawsuits is three years; however, those who want to sue a government entity have just one year to file. Additionally, they must submit a notice of claim at least 90 days before filing.
How Can I Prove Liability After a Car Accident Caused by Poor Road Conditions?
Building a strong claim starts at the scene. Photos of the hazard that caused the accident, property damage, and skid marks can help accident reconstruction experts determine the cause of the crash. Other evidence of liability may include eyewitness testimony, maintenance contracts (or lack thereof), dash cam recordings, past complaints related to the same stretch of road, and surveillance footage. A seasoned personal injury lawyer can help you gather the evidence needed to give your claim the best possible chance of success.
Call (601) 265-7766 to Speak with a Car Accident Attorney in Jackson
If you were hurt in a car accident caused by poor road conditions, contact Coxwell & Associates to discuss your case. Unlike general practice firms, we focus on only a few areas of law to ensure our clients receive the best representation possible.
Our consistently superior results demonstrate our commitment to excellence in every personal injury claim we handle. Call (601) 265-7766 or use our Online Contact Form to set up a free case evaluation with a car accident lawyer in Jackson.
Disclaimer: This blog is intended as general information purposes only, and is not a substitute for legal advice. Anyone with a legal problem should consult a lawyer immediately.