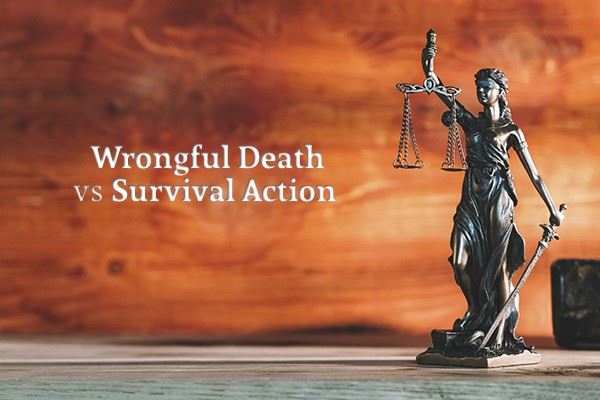 There are two types of action a family can bring after the wrongful death of a loved one: a survival action and a wrongful death claim. In a survival action, the personal representative of the deceased's estate pursues compensation for damages incurred by the deceased due to his or her fatal injury or illness. In a wrongful death claim, family members seek compensation for the damages they have incurred as a result of the loss.
Read on to learn the key differences between these two types of action:
What Is a Wrongful Death Claim?
As previously mentioned, wrongful death claims are intended to compensate surviving family members for the damages they incur. The specific damages that may be recoverable will depend on the relationship between the deceased and the beneficiary but might include loss of society, companionship, parental care, guidance, and relationship. The family can also pursue compensation for burial and funeral expenses.
Only certain parties can to bring a wrongful death claim. In the state of Mississippi, eligible individuals include the deceased's spouse, parents, children, grandparents, and siblings. The personal representative of the estate may also file the claim on behalf qualifying beneficiaries.
What Is a Survival Action?
Unlike wrongful death claims, a survival action must be brought by the personal representative of the deceased's estate. Any financial recovery goes to the estate, which is eventually distributed according to the deceased's will or the laws of intestate succession.
Survival actions can be brought when the deceased did not die immediately from his or her final injury or illness. Any medical bills, lost income, loss of earning capacity, and pain and suffering the deceased suffered due to the accident could be pursued in the survival action.
Deadlines for Filing Wrongful Death Lawsuits in Mississippi
If your loved one has died due to another party's negligence, it's important to act fast. Some of the most valuable evidence may be time-sensitive, and there are deadlines for bringing these cases to court if a settlement cannot be reached.
In the state of Mississippi, the statute of limitations for wrongful death lawsuits is usually three years; however, if the death was the result of intentional harm, the statute of limitations is one year. If the death was the result of medical malpractice, the lawsuit filing deadline is two years. Those who want to name a government entity in their suit also have just one year to file, but they must submit a notice of claim at least 90 days prior to doing so.
Call

(601) 265-7766

 Today to Speak with a Wrongful Death Attorney in Jackson
If your loved one has died in a preventable accident, contact Coxwell & Associates to determine the most strategic way to proceed. We have recovered nearly $300 million for our clients in successful settlements and trial verdicts. Call (601) 265-7766 or use our Online Contact Form to set up a free and confidential consultation with a wrongful death lawyer in Jackson.
Disclaimer: This blog is intended as general information purposes only, and is not a substitute for legal advice. Anyone with a legal problem should consult a lawyer immediately.