Premises liability is a subset of personal injury law, and like most personal injury cases, these claims are usually filed on the basis of negligence. The defendant is typically a property owner, and the claimant is usually an invitee or licensee.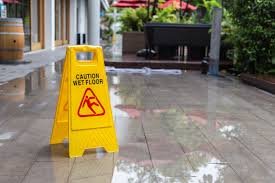 There are many circumstances when an injury victim might have grounds for a premises liability claim. Most of these cases involve a failure of the property owner or occupier to maintain the premises to a reasonable standard.
Let's explore a few common scenarios that may warrant a premises liability claim:
1. Slip and Fall Accidents
Every year, slip and falls are responsible for more than 8 million emergency department visits around the country. While many of these accidents can be attributed to mere clumsiness, a significant percentage are caused by wet floors, uneven stairs, broken railings, unmarked thresholds, cracked pavement, icy sidewalks, and similar hazards. If a property owner fails to remedy a dangerous condition within a reasonable amount of time, or to warn customers about the dangerous condition, anyone who is injured as a result may have grounds for a premises liability claim.
2. Assault and Battery
When property owners fail to implement reasonable security measures on their premises, they may be held liable for any violent altercations that occur. Some of the most common examples of inadequate security include insufficient lighting, malfunctioning camera systems, and poorly trained staff members.
3. Falling Merchandise
If a retail store fails to implement or enforce safe stocking practices, the merchandise could end up falling on a customer. Under some circumstances, this can result in a serious and potentially fatal injury. Common examples of negligence that lead to falling merchandise include stacking the products too high and failing to secure them properly.
How Long Do I Have to File a Premises Liability Lawsuit in Mississippi?
If you were hurt on someone else's property through no fault of your own and you intend to file a claim, it's important that you take action right away. If settlement negotiations fall through, you'll have a limited amount of time to file a lawsuit. In the state of Mississippi, personal injury victims typically have three years from the date of their accident to file suit.
This may seem like plenty of time, but it can take several months to perform the investigation and attempt to negotiate for a settlement. Additionally, there are some exceptions that can shorten the deadline.
For example, if you fell on a public sidewalk and want to sue a government entity, the lawsuit filing deadline is just one year. You'll also have to submit a notice of claim at least 90 days before commencing the suit.
Call (601) 265-7766 to Speak with a Jackson Premises Liability Attorney
If you were hurt on someone else's property, contact Coxwell & Associates to discuss your claim. Unlike general practice firms, we focus on just a few practice areas. This allows us to provide the most comprehensive and effective counsel possible. Call (601) 265-7766 or use our Online Contact Form to set up a free case evaluation with a premises liability lawyer in Jackson.
Disclaimer: This blog is intended as general information purposes only, and is not a substitute for legal advice. Anyone with a legal problem should consult a lawyer immediately.