Texting and driving takes your eyes off the road, your hands off the wheel, and your attention off the traffic around you. In other words, people who text and drive put everyone in the vicinity at risk of serious injury and death.
This is especially true for commercial truckers who operate large, heavy vehicles that are difficult to handle and require a significant stopping distance. A moment's inattention could be all it takes for a trucker to cause a devastating wreck.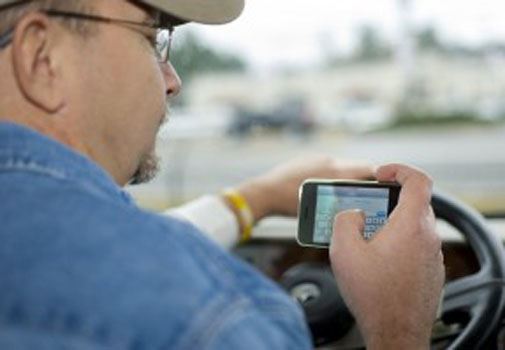 If you sustained injuries in a truck accident and think distracted driving was to blame, you may be entitled to compensation for all resulting damages. Before you can recover a single dollar, though, you must be able to prove negligence and liability—i.e. that the trucker was in fact texting behind the wheel, and this was the proximate cause of the crash.
Your attorney may use the following evidence to support your claim:
Cell Phone Records
It goes without saying that cell phone records are valuable evidence in a texting and driving accident claim. Unfortunately, cell phone service providers are often reluctant to release these records voluntarily, so your attorney may need to file a subpoena to obtain them.
Eyewitness Testimony
If there was a passenger in the truck or if someone witnessed the crash, they may have seen the trucker texting just before the collision. Their testimony might contribute to the strength of your claim.
The Trucker's Own Admissions
If the trucker admitted to texting and driving, responding officers may have noted it in the accident report. Generally speaking, insurance companies give a lot of credence to police reports, so if it says the trucker admitted to texting, this will be strong evidence of negligence.
Black Box Data
Most commercial vehicles are fitted with an event data recorder, also called a "black box." These devices record various details regarding the vehicle's operation, and their data is often used by truck accident lawyers to prove negligence. If, for example, the data shows that the trucker didn't apply the brakes before the crash, this might indicate that he or she was distracted or asleep.
Call (601) 265-7766 for a Free Consultation with a Jackson Truck Accident Lawyer
If you want to file a truck accident claim in Mississippi, contact Coxwell & Associates to discuss your case. Our lawyers have an in-depth knowledge of the case law and statutes pertaining to these claims, and we will do everything in our power to help you fight for the highest settlement possible.
Motor carriers and their insurance companies have the resources to challenge any claim that comes their way. Our attorneys can level the playing field by using proven legal strategies during settlement negotiations and any litigation that may follow.
We have won nearly $300 million for our clients in settlements and verdicts. Call (601) 265-7766 or use our Online Contact Form to set up a free consultation with a truck accident attorney in Jackson.
Disclaimer: This blog is intended as general information purposes only, and is not a substitute for legal advice. Anyone with a legal problem should consult a lawyer immediately.