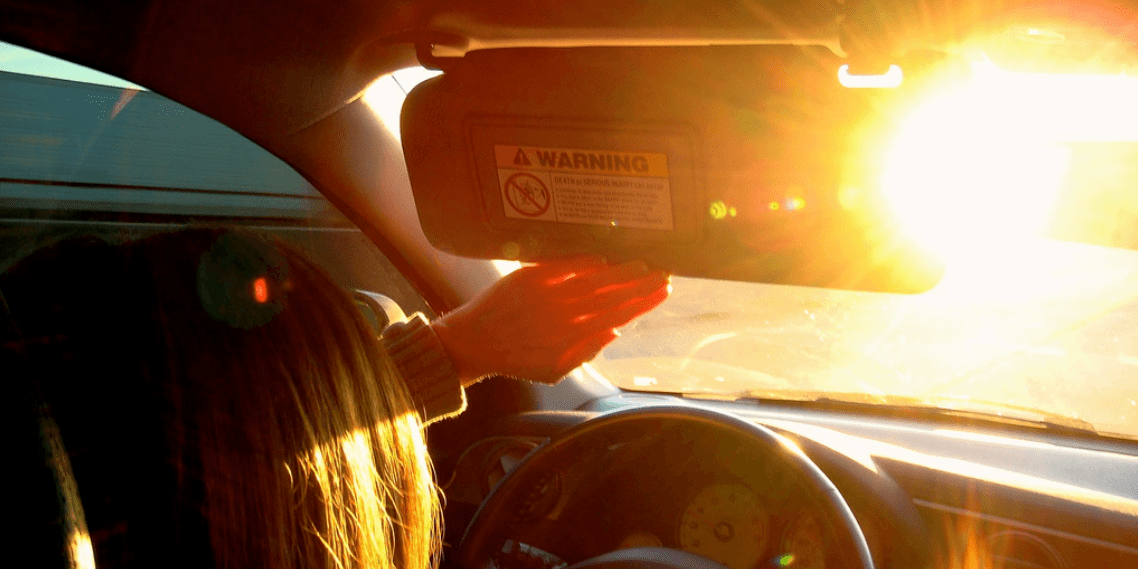 At some point in their lives, we've all experienced how blinding the sun can be, especially when it shines directly into your eyes. This can be problematic – particularly when you're driving – as sun glare conditions can be dangerous and cause accidents. Here's what to do if you've crashed due to sun blindness while driving.
Although the weather isn't something that we can control, sun blindness unfortunately won't absolve or excuse drivers of liability in the event of a car accident. There are precautions you can take to try and minimize the glare of the sun, such as wearing sunglasses or putting the sun visor down.
Even so, there may be times when the sun is too low and continues to blind you.
In Mississippi, drivers must use reasonable care when operating a vehicle.
"Reasonable care" is a particularly broad and subjective concept. Aside from following traffic regulations, it can also depend on the circumstances that crop up when you're driving. Driving at the maximum speed limit on a nice day with full visibility conditions is perfectly reasonable. But driving at the maximum speed limit on a foggy, rainy day? Not so much.
The same concept applies to days when the sun is blindingly bright.
Being reasonable depends on the circumstances and it's your duty, as a driver, to adapt to environmental stimuli. If it does happen to be so bright outside that you can barely see, you are expected to slow down, be more aware of your surroundings or even pull over if you're particularly blinded.
I've Had a Car Accident Because the Sun Blinded Me. What Can I Do?
If, unfortunately, you have had a car accident because of sun blindness, there are several things you can do. Firstly, consider whether you've taken reasonable care while driving. As we said earlier, sun blindness isn't a valid excuse but you may have a stronger argument if you have been reasonably careful. This includes attempting to shield your eyes from the sun (e.g. by using sunglasses or the visor) and slowing down.
Secondly, consider whether a similar accident has happened in that area or stretch of road before. Perhaps that road is notorious for poor visibility and pedestrians should know to take care when attempting to cross a road, for example. These are important steps to take to determine whether you're at fault or not (and if you are, to what extent) and ensure that you won't be out of pocket.
What If It's My Fault?
If it is your fault in some way, it's important that you ensure that you're financially protected. Consider these steps:
Make Sure You Have Eligible Car Insurance
In Mississippi, state law requires you to have car insurance in order to drive. You must have liability insurance, which covers the other car and driver when the accident is your fault.
The minimum coverage amounts required are:
$25,000 per person for bodily injury.
$50,000 per accident for bodily injury.
$25,000 per accident for property damage.
If you don't have car insurance, you face a $1,000 fine in the state of Mississippi and your license will be suspended for a year. Reinstating your license will be more expensive, as will re-applying for auto insurance as companies will see that you've committed a misdemeanor against the Mississippian law and consider you a high risk driver. They may even reject your application.
Consider Optional Insurance Coverage
State law requires you to only have the minimum coverage we mentioned above, but it's worth investing in optional extras on top of your basic insurance policy. This ensures that your financial costs will be as low as possible.
These might include:
Collision coverage
Uninsured/under-insured motorist coverage
Medical payment (med pay)
Rental car coverage.
Loan/lease gap coverage.
Roadside assistance or towing coverage
Have Health Insurance
Although it's not compulsory in the US, health insurance means your medical costs will be as low as possible if you are in a car accident and need treatment. Even if the accident wasn't your fault, you're the one responsible for covering your own medical bills – not the person who caused the accident. But there are exceptions to this.
Prevention is Always Better
At the end of the day, the old saying prevails: prevention is better than a cure. The sun's glare isn't something we can control, but it's always better to be prepared and to try and prevent accidents.
You should try to:
Use polarized sunglasses to shield your eyes from the sun.
Use the sun visor. It might seem extremely basic advice, but that's precisely what the visor is for: to block the brightest rays. However, be aware that the visor can reduce overall vision.
Slow down and leave more room between the cars in front and around you than normal. The sun will affect your visibility and reaction time, so give yourself a bigger gap to react.
Clean your windshield. Dirt, debris and water marks can make it even more difficult to see.
Pay attention to the road markings and ensure you stay in your own lane.
Been in a Car Accident Due to Sun Blindness?
If you or a loved one has been injured in a car accident caused by sun blindness, consider speaking to a personal injury attorney immediately. At Coxwell & Associates, our qualified attorneys are experienced in handling a number of personal injury cases, including auto accidents. We have been helping Mississippians for over 35 years and we can help you get the justice you deserve.
Contact our auto accident attorneys for a complimentary consultation – we will work hard to resolve your claim quickly in an equitable manner.
Disclaimer: This blog is intended as general information purposes only, and is not a substitute for legal advice. Anyone with a legal problem should consult a lawyer immediately.