Trucking Accidents Statistics
Trucking Accidents Statistics
When a large commercial truck collides with a much smaller passenger vehicle, it is very likely to result in grave injuries or death for those in the smaller vehicle. Those who have experienced an accident with a large commercial truck were likely seriously injured and perhaps emotionally traumatized as well. Having an experienced truck accident attorney by your side following such a traumatic event can make a huge difference in the outcome of the accident. The attorneys at Coxwell & Associates have a long history of helping those injured in truck accidents and will work hard to ensure victims of truck accidents receive fair compensation for their injuries. We understand the dynamics of a truck accident and know how to pinpoint the negligent party or parties.
Understand Trucking Accidents
A loaded commercial truck can weigh up to 80,000 pounds, as compared to 3,000 or so for a passenger vehicle; add to this the fact that a loaded tractor-trailer takes from 20-40 percent farther than a passenger vehicle (even more on wet or slippery roads or when the truck's brakes are not properly maintained), and you can see the potential for a tragedy. Some statistics regarding our nation's trucking industry include the following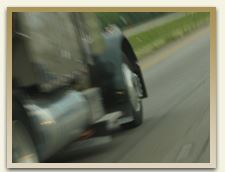 The economy of the United States depends heavily on the trucking industry—nearly 70 percent of all freight transported annually travels by truck.
Nearly 90 percent of large commercial truck accidents are either caused, or made worse by human error, whether by the truck driver or the other driver.
Truck driver fatigue is responsible for at least a third of all commercial truck accidents (although some statistics place that number as high as 87 percent).
In 2010, there were 1.1 fatal crashes per 100 million truck-miles.
In 2010, 3,413 people died as a result of a large truck accident.
While 14 percent of those who died in a large truck accident were occupants of the large truck, 72 percent of those who died were occupants of a passenger vehicle and the remaining 14 percent of those who died were pedestrians, motorcyclists or bicyclists.
While large commercial trucks account for 4 percent of the registered vehicles on the highways, they disproportionately account for 9 percent of motor vehicle crash deaths.
About 61 percent of fatalities occurred on major roads other than interstates.
Head-on collisions account for 45 percent of a truck/passenger vehicle accidents.
Nine percent of crashes involving a large commercial truck occur while the truck is negotiating a curve.
In seven percent of truck/passenger vehicle fatal crashes, either the truck or the passenger vehicle was stopped in a traffic lane.
Trucking Accidents Statistics
According to the U.S. Department of Transportation Federal Motor Carrier Safety Administration, the following statistics apply to large truck accidents in the state of Mississippi:
In 2009, there were 286,000 reports of crashes involving a large truck;
Two-thirds of all fatal crashes involving a large truck in the state occurred on a rural road, while 36 percent occurred on an Interstate;
Thirty-four percent of all fatal crashes involving a large commercial truck in Mississippi in 2009 occurred at night, and
The overwhelming percentage of both fatal (84%) and non-fatal (88%) crashes involving a large commercial truck occurred on a weekday.
While every truck accident is unique, the most common causes of large commercial truck accidents include:
Exceeding the speed limit;
Passenger vehicle is in truck driver's blind spot when truck driver changes lanes;
Brake or tire problems in the large commercial truck;
Inclement weather;
Driver fatigue—most likely truck driver, but possible driver of passenger vehicle;
Reckless driving by truck driver or driver of passenger vehicle;
Impaired driving by truck driver or driver of passenger vehicle;
Poor road conditions;
Distracted driving;
Tailgating;
Shifting cargo;
Lane drifting—truck or passenger vehicle;
Truck rollovers due to mental distraction, falling asleep, or failing to adjust speed for road conditions;
Unexpected objects in the roadway, or
Truck driver making improper maneuvers.
Useful Links
$144 Million Death and punitive damages

$120 Million Injuries from dangerous drugs

$20.4 Million Fraud settlement that went to Mississippians

$2.3 Million Brain injury settlement

$2.1 Million Civil rights death

$1.6 Million Fraud settlement for Mississippians
Contact Us today
To Schedule A Consultation
"You were made to do what you do. Know that You make a difference in lives for the better."

- Will A.

"We are so appreciative for everything you've done for us. We don't know how we would've gotten through this without your help and generosity!"

- N.B.

"My family and I will always be indebted to you and your staff."

- B.W.